Services
---
Custom Tailoring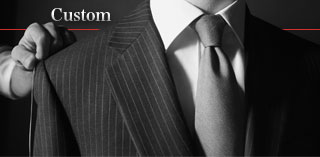 As you browse through our store, you'll be sure to find a number of items that really catch your eye. Because each and every body is different, we strongly encourage taking these garments to our fitting rooms for assessment and adjustment. Don't worry if that striking blazer is too wide through the shoulders or if the slacks are a little long; our master tailor, Rosario Nixon, and her staff of experienced seamsmiths provide the highest quality workmanship in the area, and our 15-point measuring system ensures that your garments will fit better than you ever thought possible. Our complimentary in-house garment tailoring is not only extremely high quality, we also are confident in our quick turnaround time. Any of our articles can be custom-fit to your specifications, and with so many quality designer brands to choose from, our sales associates will be more than capable of finding just the right thing to suit your needs.
Coppley
H. Freeman
Hart Schaffner Marx
Hickey Freeman
Hugo Boss
Jack Victor
Oxxford
Betenly
In Home/Office Consultaion
We understand that business peoples' schedules are hectic and sometimes coming into the store isn't the most convenient option. Therefore, we offer in-home or in-office consultations. Dan Ryan, Jr., has been making personal calls for nearly twenty years. His expertise in tailored clothing and wardrobe coordination will allow you the comfort of knowing you're receiving the best service, quality, and appearance we can offer. Call the store at (757) 425-0660 or Dan directly at (757) 439-8886 to set up an appointment. We look forward to serving you with your wardrobe needs.